Wizards of the Coast
On Monday, Wizards of the Coast revealed that their next product would be Tasha's Cauldron of Everything, a collection of new rules and character options in the vein of 2017's Xanathar's Guide to Everything. Tasha's Cauldron promises to include new subclasses, new spells and magic items, new rules for running sidekicks, and some intriguing guidance on how to run a session zero, as well as some reprinted material from Eberron: Rising from the Last War (including group patrons and the artificer class). Judging by the responses on social media, fans generally seem to be pretty excited about this.
Thinking about this new sourcebook, I asked Twitter and Reddit for what people would like to see from D&D over the next couple of years. After 400-plus comments, there are definite trends emerging: some expected, some rather surprising.
'Spelljammer confirmed'
Wizards of the Coast
Calls on D&D forums for a new Spelljammer book are the RPG equivalent of 'Play "Free Bird"!' at rock concerts. The setting which introduced the idea of D&D in space was born in 1989 and hasn't been given any official rules support this side of the millennium, yet there is clearly a diehard group of fans who would be overjoyed by a new Spelljammer book and are hanging on Wizards of the Coast's every word. There have been teases, perhaps – neogi were introduced in Volo's Guide to Monsters, giffs in Mordenkainen's Tome of Foes, and illithid ships makes appearances in both Dungeon of the Mad Mage and the upcoming Baldur's Gate III – but there hasn't been anything official, yet.
Maybe it's not Spelljammer's time. Either way, there is clearly an appetite for a non-Faerûnian campaign setting. Planescape is a common request, as is Dark Sun, which was revived in 4th edition, but Greyhawk, Ravenloft, and even Nentir Vale have been put forward. Frankly, even somewhere outside the Sword Coast would be a breath of fresh air. So far, Chult is the only other part of the Forgotten Realms we have seen in an official adventure, and Ghosts of Saltmarsh is the only adventure to be set outside Faerûn (although Curse of Strahd takes place almost entirely within its own demiplane, so that probably should count, too).
Another popular request is non-European fantasy, especially settings that are Middle Eastern, Mesoamerican, East Asian, or African in flavour. However, this would need to be handled carefully, and Wizards of the Coast are probably wary of insensitivity. Tomb of Annihilation has been criticized for stereotypical tropes, and older sourcebooks like Oriental Adventures – still available for sale on DriveThruRPG, despite the disclaimer – are even worse. Regardless, the demand for such settings remains high.
The return of the module?
'Campaign-adventures' like Curse of Strahd and Storm King's Thunder have become the norm in 5th edition. These hardback tomes run to 250 pages and cover at least two tiers of play (usually), offering potentially hours of material. But it wasn't always thus. Before 5th edition, 'modules' were often much shorter, not to mention cheaper: softcover booklets of 32 pages or so, and normally just a single dungeon like The Sunless Citadel or The Forge of Fury. There would be enough content for one or two levels of play, and if the adventure was event based, the plot would be simple and fairly linear.
While the unveiling of a new 'storyline' is always a big event for Wizards of the Coast, there is clearly some fondness for shorter, more modular adventures. They're quicker to read, kinder on the wallet, and easier to slot into an existing homebrew campaign. It feels like Wizards may be listening to fans on this as Ghosts of Saltmarsh and Rime of the Frostmaiden, two of the most recent adventures, are designed around a series of shorter, more self-contained adventures that can be run separately or as a longer, connected narrative.
Interestingly, D&D's closest competitor, Pathfinder, made extensive use of shorter modules throughout its first edition, and seems to be following a similar approach in its new, second edition. While some of these adventures had a tendency to be a bit railroady, a number of them were very well liked, and two, Rise of the Runelords and Curse of the Crimson Throne, ended up being released as special hardbook editions. Maybe there's something for Wizards to take note of here.
More character options
Wizards of the Coast
Other than new settings, the most popular request on Reddit was for more options: feats, spells, classes, subclasses, races, subraces, monsters, magic items. Tasha's Cauldron of Everything, then, is much anticipated!
Several users have noted that despite multiple treatments in Unearthed Arcana, including a new 'mystic' class, psionics has still not appeared as official content. In both 3rd and 4th editions, rules for psionics were released relatively early, in 2001 and 2010 respectively. Yet in 5th edition, the game designers haven't been able to make the mystic work, and it's looking increasingly likely that psionics will appear as subclasses of existing classes (a psychic warrior fighter, for example) rather than a whole new set of mechanics. Given the importance of psionics within the world of Athas, a Dark Sun campaign setting would be a fitting place to publish them.
It has also been pointed out that 5th edition is relatively light in terms of its support for higher level play. For example, only two of the official hardback adventures so far have covered the fourth tier of play: Rise of Tiamat and Dungeon of the Mad Mage. There are reasons for this: 90 percent of D&D campaigns never progress beyond 10th level, and encounter balancing gets increasingly unwieldy the higher up you go. As time rolls by, though, there are only going to be more and more groups gaining access to high-level play. A Manual of the Planes for 5th edition – Leomund's Guide, perhaps? – could tie in well with this. There has been some kind of planar guide in every edition except 2nd, so a 5th-edition equivalent would be welcome. It would also be interesting to see whether 5th edition could return to the paragon paths and epic destinies of 4th edition: player choices which, like subclasses, had a significant impact on the growth of a character over time.
6th Edition?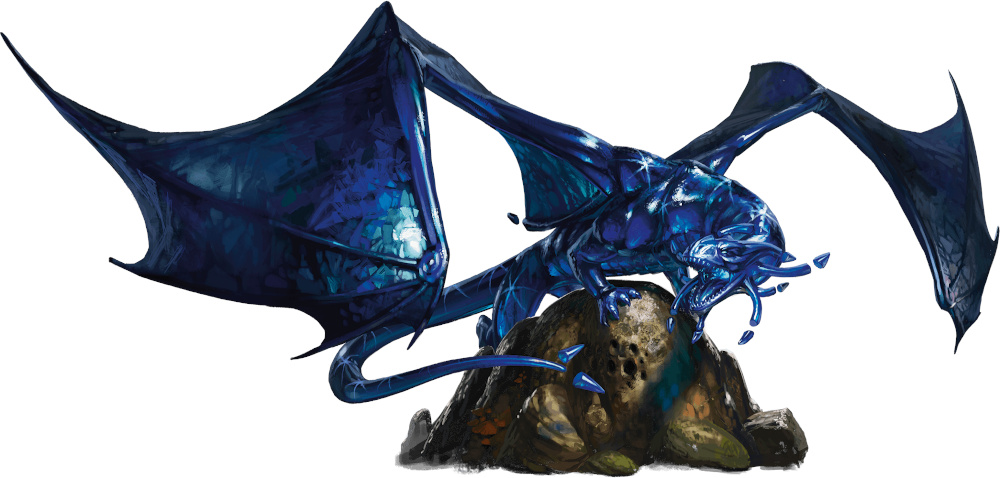 The sapphire dragon for D&D's 45th anniversary
There seemed to be a firm consensus that another edition in the next two years was neither likely nor necessary. 5th edition is probably the most popular edition of Dungeons & Dragons ever. It took several years to playtest and has one won over thousands of new players, and won back plenty of others who jumped ship to other RPGs after 4th edition left them disappointed. Wizards of the Coast have deliberately avoided rushing out new products and have generally stuck to a model of one or two campaign adventures a year plus one or two sourcebooks. Generally speaking, this has kept quality high and helped to aoid the 'rules bloat' that came to define 3rd edition and games based upon it. A new edition would probably alienate more players than it would win over.
That said, it's clear that there are fundamental problems with the skeleton of 5th edition which can't be ironed out with house rules and other hacks. The issue of linear warriors, quadratic wizards remains. Encounter balancing is a bit of a mess. The game is supposedly built around the three pillars, yet the rulebooks have whole chapters on combat and next to nothing on exploration and social interaciton. For some players, D&D is 'broken' enough to make them explore other RPGs, whether it's Old School Revival retroclones like Old School Essentials or crunchier systems like Pathfinder 2e. For most people, though, it seems like 5th edition succeeds more than it fails. At least, that's what the sales would suggest.
Unless D&D stops making money or its popularity starts to wane dramatically, 5th edition is here to stay. But who knows? Maybe '5.5' will be announced in time for the 50th anniversary in 2024. D&D: Gold Edition?
To subscribe, click here. You can unsubscribe any time. You can find me on Facebook at scrollforinitiative, Twitter at scrollforinit, and Instagram at scrollforinitiative.